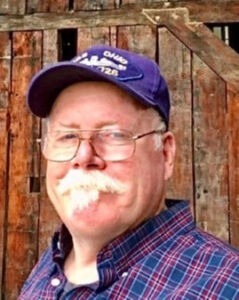 Frank McFadden was a hard worker who was proud of his career in the metal trades and shared a passion for music and helping people. Growing up with 12 siblings, Frank loved meeting new people, telling stories, and making people laugh. He had many Veterans in his family and truly valued "God, Family, and Country."
We are saddened to share that Frank passed away at his home in April, surrounded by loved ones. He had a lasting impact on the VSC of Summit County by helping establish a guitar program for Veterans.
VSC Project Manager David Burden worked with Frank to bring to life his vision to "see Veterans with a guitar in their hands" by agreeing to offer free lessons for Vets at the VSC Akron office. Frank was a talented musician who knew how to play various instruments including electric bass and acoustic guitar, and he knew the power of music could help others. David explained that Frank's spirit of volunteerism is the reason this program was started.
Frank taught many students and hoped this group would provide support for Veterans while they learned to create music and develop new friendships. Although there were challenges along the way, including maintaining the program during a global pandemic and finding other musicians to help teach lessons, Frank was able to see his dream come to fruition when the program partnered with Guitars for Vets (G4V) in August 2022 to establish the Akron Chapter.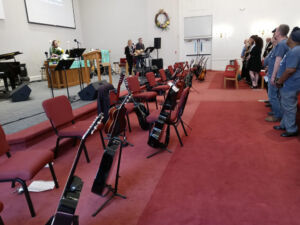 G4V operates over 200 chapters across the U.S. and assists with providing lessons and guitars to Vets. Creating this chapter expanded the classes at the VSC Akron office and helped more than 25 students graduate thus far with an expected total of 40 graduates by the end of the year.
As a tribute to Frank, current and former students played "Amazing Grace" at his going home memorial service on June 17. "It was a special honor for the students who have been touched through Frank's efforts and commitment," David said.
The VSC of Summit County is truly grateful for the impact Frank's passion has had on the Veterans we serve.
To learn more about the G4V Akron Chapter visit our Facebook page, or email oh.akron@guitarsforvets.org for more information.