VA Introduces Pre-Need Burial Eligibility Determination Program
The Department of Veterans Affairs (VA) has implemented a pre-need burial eligibility determination program to assist anyone who would like to know if they are eligible for burial in a VA national cemetery. The VA is promoting pre-need eligibility determinations to encourage veterans and eligible family members to plan in advance to use the VA burial benefits earned through military service.
Planning in advance for a veteran's or loved-one's final resting place can reduce delays and stress placed on a family during a difficult time.
Upon request, the VA will make advanced eligibility determinations for burial in a VA national cemetery. Eligible individuals are entitled to burial in any open VA national cemetery, which includes opening/closing of the grave, a government-furnished grave liner, perpetual care of the gravesite and a government-furnished upright headstone, flat marker or niche cover, all at no cost to the family. Veterans also are eligible for a burial flag and Presidential Memorial Certificate.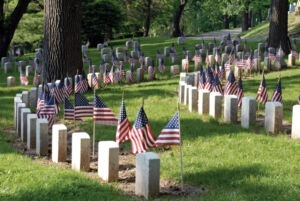 Burial in a VA national cemetery is open to all members of the U.S. Armed Forces and veterans who have met minimum active-duty service requirements, as applicable by law, and were discharged under conditions other than dishonorable. Members of the reserve components of the Armed Forces who die while on active duty under certain circumstances or who die while on training duty also are eligible for burial, as are service members and former service members who were eligible for retirement pay at the time of their death. Spouses, minor children and, under certain conditions, dependent, unmarried adult children also are eligible for burial, even if they die before the veteran.
The VA has implemented this pre-need eligibility program so that veterans, spouses and unmarried dependent adult children may better prepare for burial in a VA national cemetery prior to the time of need. Interested individuals may submit VA Form 40-10007 (Application for Pre-Need Determination of Eligibility for Burial in a VA National Cemetery) along with a copy of supporting documentation of military service, such as a DD214 if readily available, by: toll-free fax to 1-855-840-8299; email to Eligibility.PreNeed@va.gov; or mail to the National Cemetery Scheduling Office, P.O. Box 510543, St. Louis, MO 63151.
In Appreciation,

Executive Director