World War II Veteran Dedicates Life to Support of Country, Community
Retired U.S. Army Col. William Miller has always had a proclivity for serving his fellow man – an inclination he credits, in part, to a humanities course he took at the University of Akron (UA) while working toward his undergraduate degree.
"That course did more than any other course to prepare you for life," Miller said. "You learned about good music, you learned about good literature and you learned about how to serve other people.
"I've always served other people," added Miller, the scoutmaster emeritus of Boy Scouts of America Troop 380 in Bath. "I try to instill this in the young men I work with. Have integrity in all that you do and do the best that you can, but don't do it for you – do it for other people, and it will come back and be good for you too."
Following the attack on Pearl Harbor on Dec. 7, 1941, it was Miller's commitment to serving others that pushed the then 19-year-old Akron native to put his college education on hold and enlist in the U.S. Army.
"It was to help our country, really," said Miller, now 94, recounting why he joined. "I love our country, and I'm proud of it and I felt it was my duty."
Only a few years later, he found himself storming Utah Beach during the Allied invasion of Normandy, fighting under General George Patton during the Battle of the Bulge and taking part in the liberation of a Nazi concentration camp near Gotha, Germany. His platoon's discovery in April 1945 of that camp – and the hundreds of dead and dying people behind its walls – remains the most horrible thing he's ever seen. Though his combat experience exposed him to indescribable atrocities, it never lessened his positive attitude or his desire to serve others.
Miller was decorated for valor and earned a Purple Heart for his service during the war. After his combat tour in Europe was cut short by a mortar shell injury, he returned to the U.S. and picked up where he left off, earning his bachelor's degree in business administration from the UA in 1947. That year he also married his wife, Alice, who passed away in 2009.
He earned his juris doctorate from Case Western Reserve School of Law in 1954. Soon after, he began a career as a partner in Financial Planning Services, providing investment advice and assistance for thousands of clients – many of whom he still serves today.
All the while, Miller remained in the Army, joining the 83rd Infantry Division reserve unit and periodically returning to active duty until he retired as a full colonel in 1982. Though he served his country proudly, working to help members of his local community has been his greatest passion.
"It's not what you do in the service," he said. "It's what you do with your life afterward, and my life has been dedicated to community service and working with young people."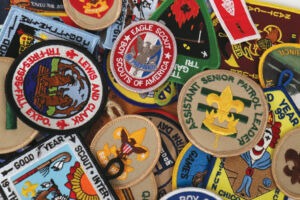 Miller has devoted much of his time to Boy Scouts. An Eagle Scout himself, he served as scoutmaster of Troop 380 for more than 30 years and continues to mentor boys as an Eagle advisor. Since he joined the troop in the 1960s, it has turned out more than 180 Eagle Scouts.
He has been active in other ways, serving as a member of the Akron Rotary Club, a founding member and past president of the Fairlawn Chamber of Commerce, past president of the Akron Optimist Club and a member of various other organizations. In recognition of his achievements and community service, he was inducted into the Ohio Veterans Hall of Fame last year.
Offering advice to fellow veterans, Miller emphasized that it's important to get an education – whether it be a college degree or studying a trade – and, above all else, seeing their work through to completion.
"I'm a very strong believer in that," he said. "Whatever you do, give it 100 percent, no matter how menial it is."
---
Top Photo: US Signal Corps / Collection: MNHM