By Lori Mann, AFC®, FFC®
Summit County VSC Financial Consultant
As we enter spring, it's still early enough to make some meaningful financial resolutions for 2021. For Veterans, a good starting resolution is building a plan to become debt free.
The first step to achieving this resolution is setting specific but achievable goals. Remember, you don't need to do it all at once! Start by determining exactly how much you can afford to pay per month and establish your goal based on that. For example, if you have $3,000 in debt and can afford to pay $100 per month, you can do some quick math to determine how long it will take you to pay it off, including interest. The key is setting a target and establishing a realistic plan.
Establish a budget
The best way to ensure you're paying down your debt at a manageable level is to set a budget, which is vital to make sure the money you're bringing in is on track with what you're spending – for utilities, groceries, entertainment, etc. Setting and following a budget will help keep you from over-drafting your accounts, incurring late fees or wondering how you're going to pay certain bills between paydays.
You can get started by downloading a basic budgeting template online – click here for an example. If you determine that your expenses don't align with your income, consider your options: finding different/additional employment; reducing "impulse" spending; and/ or looking for opportunities to alter due dates for bills. It may also be wise to consider stopping the use of credit cards altogether, while also prioritizing payments toward accounts with the highest interest rates or highest balances.
Most importantly, put your budget in writing – then track it and stick to it!
Start saving!
Once you have a plan in place to eliminate your debt, start thinking about putting some money away – for future vacations, emergencies or other unplanned circumstances. Not only will a healthy savings account give you peace of mind – it will also be there to help keep you from taking on new, avoidable debt in the future.
A good method to remember when it comes to saving is "Pay Yourself First." Every payday, budget to deposit a small amount into a savings account or, better, if your employer pays via direct deposit, assign a portion to go directly into savings – out of sight, out of mind!
Be cautious of debt settlement providers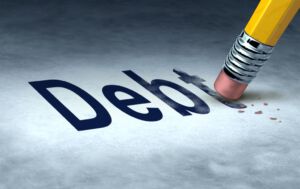 You can always use a certified financial counselor to help you as you work to pay off your debts. However, be careful when dealing with debt settlement companies. Even the Consumer Financial Protection Bureau recommends caution. Some red flags to watch for:
They guarantee they can make your debt go away
They tell you to stop paying your creditors
They tell you to stop communicating with your creditors
They tell you they will negotiate with creditors on your behalf
They guarantee your unsecured debts can be paid off for pennies on the dollar
They tell you they can stop all debt collection calls and lawsuits
They promote any "new government programs" to bail out personal credit card debt
They charge you fees before settling your debts
With reasonable goals and a willingness to stay focused, your resolution to become debt free can become reality. And you don't have to do it alone: As a Veteran in Summit County, you have access to certified financial counseling through the VSC that is free and confidential to you and your family. Schedule an appointment any time by calling Lori Mann at (330) 564-0830.