The pandemic has impacted so many areas of our lives, but not our shared responsibility to recognize the selfless contributions of Veteran volunteers to their communities, fellow Veterans and other important causes.
Although the 2021 Veteran of the Year Dinner was canceled due to the COVID-19 emergency, our commitment to recognizing a deserving recipient of this award, established in honor of the late James C. Seminaroti, remains undiminished.
To nominate a qualified Veteran volunteer for the 2021 VSC James C. Seminaroti Veteran of the Year Award, please download and submit the form located here, or contact VSC at 330-643-2830 or by clicking here.
The following are brief profiles of two nominees for the 2021 award:
Ginger MacCutcheon:
Supporting Those in Crisis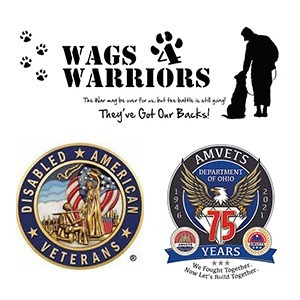 Ginger MacCutcheon had every reason to bury her memories of sexual trauma experienced as a member of the U.S. Women's Army Corps in the late 1970s. In fact, she did just that until an acquaintance suggested she reach out to the VA for help.
But the healing process truly began when MacCutcheon was introduced to Sadie, a paralyzed dog, through a California-based rescue group. This new relationship blossomed thanks to the support of Wags 4 Warriors, a Northeast Ohio non-profit that finds, trains and supports service dogs for Veterans.
From her own lifechanging experience with Sadie, MacCutcheon, a registered nurse, has developed a passion for serving other Veterans and their family members. A resident of Akron, she has served as a Wags 4 Warriors dog trainer since 2015; is chaplain, treasurer and webmaster for Disabled American Veterans Chapter 116; a life member, trustee and second vice president of AMVETS Post 176; and co-chair of the Louis Stokes Veterans Advisory Council. Through her work as a chaplain, she has performed hundreds of honor recognition ceremonies for those in hospice and other care facilities. Her motto is, "I truly believe we are defined by our willingness to give of ourselves."
Tyrone Sanders:
A Relentless Focus on Others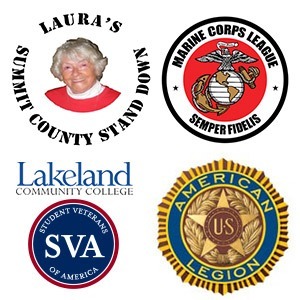 U.S. Marine Tyrone Sanders has been described as a powerful leader who redirects attention and credit to those around him. A Fairlawn resident, Sanders has been active in an array of Veterans organizations and causes, including the Marine Corps League, where he has been a commandant and judge advocate, and Stand Down Chairman for Laura's Summit County Stand Down for Homeless and Displaced Veterans. He also is a lab technician at the Akron VA Clinic and an active member of the Lakeland (Community College) Student Veterans of America and American Legion.
The past few years have been particularly difficult for the Summit County Stand Down, but Sanders "has handled every challenge with pure leadership," writes one of those who nominated him for the 2021 Veteran of the Year Award. "He has a positive outlook and is always willing to help a Veteran."