Summit County VSC Recognizes Veterans of the Year Ginger MacCutcheon and Donald Lloyd
Their backgrounds and military careers could not have been more different, but their stories align in one unforgettable way: their commitment to helping others. The VSC recently presented the James C. Seminaroti Veteran of the Year Award to Ginger MacCutcheon for 2021 and the late Donald K. Lloyd for 2022.
"We are pleased to have been able to re-establish our Veteran of the Year Dinner in the wake of the pandemic and could not have selected two more deserving recipients," said David Burden, project manager, VSC. "Ginger and Donald have helped bring peace and a sense of wellbeing to others whose own post-military journeys have not always been easy. Their stories are unique but these two recipients' commitment to others has been very much the same."
2021 Recipient: Ginger MacCutcheon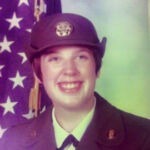 Ginger MacCutcheon had every reason to bury her memories of military service due to sexual trauma she experienced as a member of the U.S. Women's Army Corps in the late 1970s. Joining the Army straight of high school, she had hoped for a long, meaningful military career. Instead, she has used her experiences to support other women who are dealing with similar trauma. "The first thing that helps (military sexual trauma) victims is finding someone to talk to. The second is having that person help them access programs and treatment available through the VA," she says. "I was in my fifties before discovering there was help available for what I had gone through. It's important for these women to get help early so they can live their best life."
Ginger's commitment to others can be seen not only through her one-on-one support and guidance of MST victims but also her extensive volunteerism on behalf of all veterans. Among her many activities have included serving as 2nd Jr. Vice Commander of the Disabled American Veterans Department of Ohio and Commander and Chaplain of Chapter 116 Brooklyn/Parma; AMVETS Department of Ohio – District 20 Chaplain, Post 176 2nd Jr. Vice Commander, Chaplain, and Trustee; Administrative Volunteer for the Employee Patient Experience Service, and Chairwoman of the Veterans Advisory Council at the Louis Stokes Veteran Administration Medical Center; and a mentor for Summit County Valor Court. She also for many years was a caregiver to the elderly wife of a World War II veteran.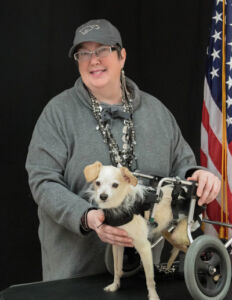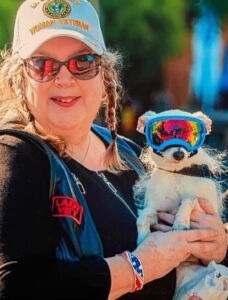 But there's another side to both Ginger's volunteerism and continued recovery: Her healing truly began when she was introduced to Sadie on Wheels, a paralyzed service dog she adopted with the help of a Northeast Ohio non-profit. "Sadie (now retired) was always watching and let me know when someone was behind me," Ginger says. "She gave me the courage to go out to the mall, hockey games, baseball games, basketball games and other places I wouldn't normally have gone because there were too many people and too many things happening."
Based on her experiences with Sadie, Ginger achieved accreditation as a trainer of service dogs for veterans suffering from PTSD and traumatic brain injuries. She also worked extensively with a Northeast Ohio-based organization that paired veterans with trained service dogs.  
Thanks to countless programs and services available through the VA and other organizations – and through the lifechanging support of Sadie – Ginger MacCutcheon is looking forward rather than reliving the past. And this healthy outlook fuels her commitment to serving those in need: "I truly believe we are defined by our willingness to give of ourselves to others," she explains.
2022 Recipient: Donald Lloyd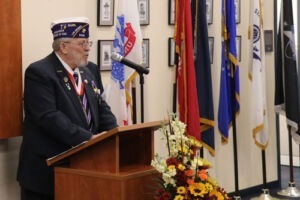 Donald Lloyd, who was aware he had been nominated for the VOTY Award but sadly passed away prior to the announcement, was a familiar face to hundreds of veterans and family members throughout Summit County and beyond. A Purple Heart recipient who served in the Vietnam War, Don went far in his professional career – retiring from Parker-Hannifin Corp. after more than 40 years – but never lost sight of the duty, honor and purpose of his military service. Moreover, he helped honor the selfless commitment of countless other veterans through decades of work with the Military Order of the Purple Heart, where he served as chapter senior vice commander, American Legion, Vietnam Veterans of America, Pup Tent and other groups.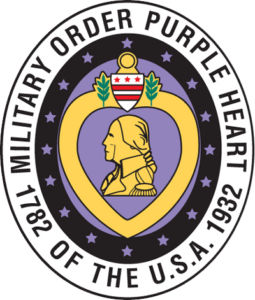 "I could count on him for just about anything," says Larry Emery, who worked alongside Don in Chapter 699 of the Military Order of the Purple Heart. 
Perhaps what was most telling about Don, however, were the dozens of other services he performed in virtual anonymity. Emery recalls learning, following Don's death, that he had long considered it his duty to replace worn Purple Heart flags for a local VFW post. "He didn't do things for recognition; he did them out of the kindness of his heart," Emery explains.
Don's selfless service included volunteering each week at the VSC offices to help support vets seeking assistance with health benefits and other needs, conducting flag burning ceremonies for veterans who wanted to retire their worn flags, and lending a hand in the annual Summit County VSC toy drive. He also volunteered for the Goodyear Hunting & Fishing Club Special Needs Children's Trout Derby, which helps deserving children learn the thrill of fishing. It is suspected that, in many cases, Don made sure kids went home with their own brand-new rods and reels.
Beyond serving those in need, Don spent innumerable hours honoring deceased veterans by working with the color guard at military funerals at the Ohio Western Reserve National Cemetery in Rittman. Additionally, he and Emery regularly drove through cemeteries looking for flags needing replacement and each year they joined their chapter in decorating three area cemeteries in preparation for Memorial Day.
Congratulations to these two distinguished recipients of the James C. Seminaroti Veteran of the Year Award!